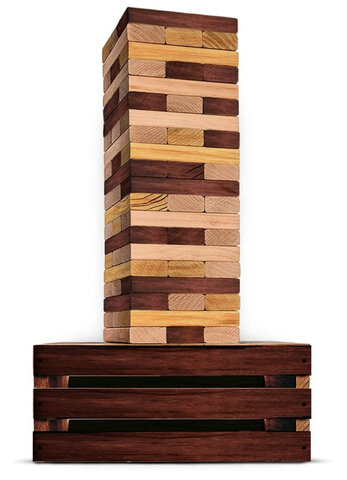 Giant Jenga #2
Actual Size: 4'H
Outlets: 0




Introducing our Giant Jenga #2, the ultimate outdoor game for all ages! This classic game has been supersized to create an even more exciting experience. Each block is made from high-quality, sturdy wood, ensuring durability and longevity. The blocks are precision cut to create a smooth surface for easy stacking and removal.
The Giant Jenga #2 set includes 60 blocks. This makes the game perfect for outdoor events, backyard barbecues, and family gatherings.
Playing this game is easy and fun. Simply stack the blocks in rows of three, alternating the direction of each row, and then take turns removing one block at a time and placing it on top of the tower. The game continues until the tower falls, and the last player to successfully remove and stack a block wins the game.
Giant Jenga #2 is a great way to bring people together and create lasting memories. It's perfect for parties, picnics, and other outdoor events. So why wait? Order your Giant Jenga #2 today and get ready to have some fun!