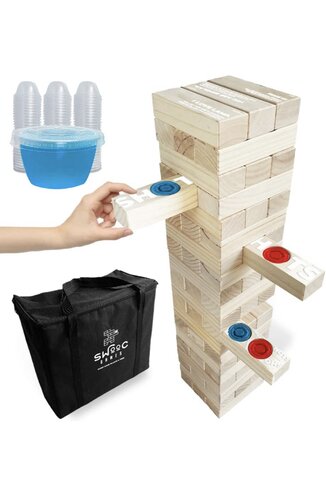 Shot Blocks Jenga
Introducing Shot Blocks Jenga, the ultimate party game for adults! This exciting twist on the classic Jenga game is perfect for your next gathering or night in with friends.
The game includes 60 wooden blocks, each with a unique challenge or instruction printed on it. Players take turns removing a block from the tower and completing the challenge or instruction. If they successfully complete the task, they get to assign a shot to another player.
Shot Blocks Jenga is a fun and interactive way to liven up any party or get-together. Whether you're looking for a new way to break the ice with new friends or want to add some excitement to your next game night, Shot Blocks Jenga is the perfect choice. So grab a group of friends, a bottle of your favorite beverage, and get ready to have a blast with Shot Blocks Jenga!